---
The West Michigan Trails and Greenways Coalition is a non-profit group of like-minded donors, organizations and volunteers who are dedicated to developing non-motorized trails and greenways into a linked system that connects wilderness areas, parks, historic landmarks and cultural sites throughout West Michigan.
---
Michigan Trails and Greenways Alliance a non-profit organization that shall foster and facilitate the creation of an interconnected statewide system of trails and greenways for recreation, health, transportation, economic development and environmental/cultural preservation purposes.
---
Learn about the conversion of old railroad grades to trails. Also visit the Rails to Trails Midwest Regional Office.
---
Search a database of trails around the country.
---
Member of the West Michigan Trails/Greenways Coalition and a sister trail of the Musketawa Trail. When complete it will be a 42 mile long trail between Grand Rapids and Vermontville, MI.
---
Member of the West Michigan Trails/Greenways Coalition and a sister trail of the Musketawa Trail. It is a 92 mile long trail between Grand Rapids and Cadillac MI.
---
The Fred Meijer Heartland Trail, as proposed, is a paved hiking/biking path that extends approximately 30 miles along abandoned CSX railroad right-of-way going east of Elwell in Gratiot County, west through Riverdale, Vestaburg, Cedar Lake and Edmore. At Edmore, the trail turns south and runs through McBrides, Stanton, Sidney and ends at Lake Road in Montcalm Township just north of Greenville.
---
Ottawa County Parks manages the 12 mile section of the Musketawa Trail from Marne to Ravenna
---
DALMAC is an annual bike tour sponsored by the Tri-County Bicycle Association of Lansing MI to raise money for bicycle awareness. Funding for the computer equipment used to maintain this web site was provided by grant from the DALMAC fund.
---
The Michigan Snowmobile Association is a volunteer organization dedicated to the improvement of the sport of snowmobiling in Michigan. Snowmobile trails in Michigan are open from December 1st through March 31st.
---
Michigan Trails: Your Guide to Michigan's Multi-Use Trail Network. Michigan Trails Magazine and Website are dedicated to providing you with the most accurate maps and information on Michigan's growing network of non-motorized, multi-use trails. This website is published by trail people for trail people with information you need to enjoy a great day (or more) exploring Michigan trails. Use it to plan your next trail adventure.
---


The Musketawa Trail is a 25-mile paved four season recreation trail in west Michigan between Marne and East Muskegon. It traverses orchards and farmlands under forested canopies in Ottawa County, passing thru the Village of Conklin and onward to Ravenna.
---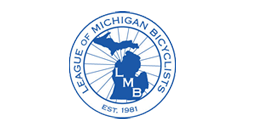 The mission of the League of Michigan Bicyclists (LMB) is to promote bicycling and the safety of bicyclists on the roadways of Michigan. LMB is a non-profit, tax-exempt statewide membership organization working to improve conditions for bicycling in Michigan.